You are currently browsing the tag archive for the 'abhishek bachchan' tag.
While I was gone, the first trailer of Raavan was out. Here it is :
The junior of the Bachchans seems all set to give a delightful performance — depending on what delights you. He was restrained in Guru, but he seems to have realized that restrain is for silly actors. Anyway, I digress.
I am looking forward to the music more than the movie. A.R. Rahman looks in fine form. I don't want to get my hopes high based on the 30 seconds in the trailer. A good director can churn out a great first-look of any Rahman OST. Think Swades, The Rising (good director doesn't apply here), even Kisna.
What makes me curious about Raavan is the use of chaos in this track. It sounds weird at first, before the familiar Rahman guitar arpeggios kick in. Few musicians can make chaos sound nice; they probably also view chaos as something beautiful. Rahman has used utter chaos in the past to a wonderful effect (for instance, the Bombay Dreams title track), and manages to do it again in whatever this track is. The signs are good, the rest remains to be seen.
More than being sure that this album will be good, I am praying that it is something special. His last great timeless album was Jodhaa Akbar (am I missing any album here?), and 4-5 individual tracks later.
Mumbai Mirror isn't known for high-quality journalism — but even by their standards, this is in poor taste.
Mr Bachchan is especially sold on a grandson, but when asked about it he says, as usual, "When it happens, it will happen." But the question that is really bothers the family and their close friends is – when? After all, it's no secret that Aishwarya is 37, and she isn't getting any younger.

But it now comes to light that the reason for her inability to bear a child at the moment is because she has been suffering from stomach tuberculosis for a while. Says a source, "The medication Aishwarya is taking for her stomach ailment is hampering her from getting pregnant. Until the tuberculosis is fully cured, she is unlikely to risk a pregnancy."
Amitabh Bachchan blasted the tabloid at his blog, and he is absolutely justified. Abhishek Bachchan took to Twitter and posted a series of tweets expressing his outrage. Aishwarya herself wrote to the tabloid who — smartly — did not retract the story but went ahead and printed the letter too — to grab more eyeballs.
I can't articulate what line tabloids shouldn't cross, but this fabrication seems to have crossed it. The Bachchans' complaint might not have any legal merit to it — but together, they have a enough following to make noise. And they must.
*****
All this is assuming the story is fabricated, and I want to believe it is. I wouldn't wish an ailment like this on anyone.
I would be lying if I said I hadn't expected this, but reactions to the Paa review I posted have been varied — many negative. A reader with masterful introspection commented, "Internet-blogs have given platform to too many idiots". I agree.
Before you dismiss my review as that by a Bachchan-hater (which is not very far from the truth, btw), I must tell you that I wanted to like the movie. Given sufficient reasons, I would definitely have. I didn't get those, so I stand by the review and can easily defend the points I raised.
As I read reactions from critics and fellow bloggers, a common mention is the brilliance of Amitabh Bachchan's acting. I suspect what they want to say is the fact that he accepted the challenging role is commendable — something I agree to. But the acting was not brilliant, even by Indian cinema standards. If Bollywood is your reference, he probably surpassed Black, Aamir is the most intelligent actor and we all lip-sync to songs and dance when happy. As we know, that's untrue.
My point remains : I can visualize a better performance in the role of Auro, so I cannot call it brilliant. If I revisit scenes from Paa, I can see Mr. Bachchan in every single scene, not a 13-year old. He tries — no doubt — but he is far from brilliant. Because he doesn't fit there. So I am tempted to hold the director responsible for this fiasco — the role would have been better played by a 13-year old made to old older. A six-feet tall Amitabh Bachchan is just creepy : victims of progeria seldom grow taller than 4 feet.
Meanwhile, I haven't seen too many people sharing my views except for @Movie_Goer on Twitter, a regular reader who used to write at a blog – now defunct — and has now moved on solely to Twitter. She says and I quote :
The following people have not liked Paa either : http://twitter.com/moifightclub ; http://twitter.com/Suderbuzz ; http://twitter.com/annavetticad
So it's like an esoteric society now.
*****
On a lighter note, I had tweeted this annoyed by reactions to Paa :
What is wrong with the world ?

@Movie_Goer replies : I think majority of the world is Paa-gal.
Word is out that an international version of Paa is coming soon, while leaders are at Copenhagen thinking climate change is the next big threat to all.
I can come up with many such lame jokes, but I'll spare you — as long as you don't rave about Paa.
Avoid. Er, not this review; the movie.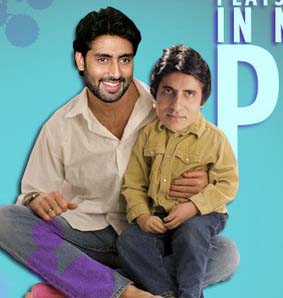 This review is going to be extremely offensive and in bad taste, and I take responsibility for it. Heck, I'll apologize right now.
1. First things first. The movie needs to be called Maa and not Paa — if it had to be made at all i.e. Did the director go through the script even once before deciding the title ? Oh wait, the director is the writer; maybe he's also a politician — which is why he has no common sense (you'll have to see the movie to get this jab; but you still shouldn't see the movie).
2. The movie begins in an innovative way : Jaya Bachchan announces the cast and crew — which I'm perfectly fine with. Her unintelligible expressions — I'm not. We need subtitles when Jaya Bachchan acts. Seriously.

3. The casting — Amitabh Bachchan as Auro ? Sure, you think he's a legendary actor, but progeria inflicted children do not grow upto 6 feet tall — merely their body ages quickly. Don't believe me ? Go look it up. The part should have been played by someone far shorter.
Maybe Aamir Khan. Boom !
4. Abhishek Bachchan can't act. Amitabh Bachchan tries to act : he is not agile as a kid — something the role demands. And is it me or does his modulated voice sound like a squeaky Naseeruddin Shah ?
If you want to praise Amitabh Bachchan just for playing a 13-year old, do it on your private property. I think it is fair that his is judged just for his acting, and I'm sorry but he does not do too well. If you think I'm being pompous, please watch Christoph Waltz in Inglourious Basterds (from the top of my head) to form a mental bar for acting.
The part of Auro should probably have been played by a child actor who is made to look older, not an old man made to young younger. But since we're obsessed with our stars, Amitabh Bachchan gets 'the role of his lifetime'.
5. Abhishek Bachchan's son in the movie is born with progeria due to genetic defect. This was expected. If a gene can deteriorate so much from Amitabh to Abhishek, Abhishek's son is bound to be defective. Boom !
6. This movie will, sadly, give ideas to older stars to play younger characters without being mocked. Get ready for the next Aamir movie where he plays a college student, again, but this time around, he has progeria — so it's okay.

7. R. Balki's previous movie, Cheeni Kum was known for witty dialogues, and being an overall laborious movie. This is similar. The witty lines are intermittent, but there; some of the jokes like a girl following Auro are hilarious; snippets of Auro's character are written perfectly from a 13-year old's perspective; but the script just drags on and on and on — pointlessly, most of the time. By the end, I wanted Auro to die so the movie would end. Boom !
8. The only saving grace is Vidya Balan. Her character is one of the better scripted ones (along with the grandmom's) and it is very well acted. Pity that she was forced to (symbolically) marry Abhishek in the end at Auro's insistence. I wish she had not agreed — it would've been consistent with her character, and let's face it, kids are stupid anyway. Boom !
9. Auro paints a globe entirely white as his vision for India, and wins a prize for his noble thoughts. Yeah whatever. But you can't paint and call oceans a part of India !
This also reinforces point 8, by the way.
10. R. Balki is a master at creating annoying child characters — they were there in Cheeni Kum, they are there here. Just for your future reference, here are the kinds of child characters you can write : dumb (child characters in the 70s), innocent (Taare Zameen Par), smart (Tahaan), over-smart (Kuch Kuch Hota Hai), super-duper-duper smart at which point they annoy. The last category can be found in Cheeni Kum and Paa.
11. Paa teaches us one important thing — no good can ever come from having sex with Abhishek Bachchan. Boom !
12. But arguably the most important lesson Paa teaches — always always ALWAYS wear a condom and practice safe sex. Else's you'll have to endure movies like Paa. Boom !
So conclusion — don't watch Paa. It is not entertaining; not even in a guilty pleasure way like Blue. I am astonished at the positive reviews the movie is garnering. But I think I can explain it in another post that will come up shortly.
P.S. : Oh, and I've tried to keep it restrained in the post.
P.S. 2 : If you are a new visitor, please think about subscribing to the content — if you liked it.

It is hard to come across a sentence involving Anu Malik that isn't preceded or succeeded by plagiarism. I too have done that in the past. It is easy for us sitting at a vantage point and unconditionally poke fun. But for once, I'd like to credit the music director for one soundtrack that is arguably his absolute best : Refugee.
Until last week, I had just heard the most popular track — Panchi Nadiyan — which I think is a very good track. I had fleeting listens to the other tracks in the past, but never really thought much of them. While I was travelling last week, I heard the other songs of Refugee closely and I'm thoroughly impressed.
It is tough to point out the best track in the album. It has to be a close call between Panchi Nadiyan, Raat Ki Hatheli Par, Aisa Lagta Hai and Mere Humsafar. The lyrics by Javed Akhtar superbly complement the music and I think he has only gone south after this film's release in 2000.
The strongest link in the entire album is the melody. Malik has gone beyond creating obvious tunes and riffs to explore the possibilities of longer melodic constructs. Udit Narayan is in superb form and while Alka Yagnik usually annoys me, she is fairly good in this album. Sonu Nigam was at his peak around that time, and it shows.
As far as I know, none of the songs of Refugee have been blatantly plagiarized. So it is a well deserved National Award for Anu Malik and a superb effort — I'll concede that. Malik  has himself to blame for biasing our views. If he hadn't been such a blatant lifter of tunes, he wouldn't have to defend every new album of his as awe-riginal in interviews — although I'm not sure if he would've been around for as long if he hadn't pleased his directors and producers by not providing those tracks.
But I have my complaints.
For one, the use of the verse and chorus tunes in musical interludes. This is one most obvious difference between the better music directors like A.R. Rahman, Shankar-Ehsaan-Lo, Amit Trivedi, etc. and the lesser ones like Jatin-Lalit, Nadeem-Shravan and Anu Malik. A song loses out on creativity by using the main tune played on different instruments in interludes — and it is one of the things that annoys me most.
Second, is the obvious arrangement. Malik and his like need to think out of the box when it comes to arrangement. Until that, they can never provide a different sound and will have to rely on melody. Rahman stormed into the industry with both strong arrangements and melody. It is no wonder that others still find it tough to catch up with him.
Anu Malik can be good if he wants, and Refugee only proves it. He is talented too, but then anyone whose name is placed next to Abhishek Bachchan in the credits of a movie directly seems talented.
And I'm back at the vantage point.
Now everyone should know I am a big fan. Not just of any individual Bachchan, I am a fan of the Bachchans.
This is what the Junior is upto :
Bollywood actor Abhishek Bachchan travelled all the way to Kargil to pay tribute to the war heroes ahead of Vijay Diwas July 26 armed with 'gajar ka halwa' and 'aam ras' especially made by his wife Aishwarya Rai and mother Jaya Bachchan for the soldiers posted there.

Abhishek also read out a beautiful poem 'Agnipath' written by his grandfather Harivansh Rai Bachchan along with a message from his actor father Amitabh Bachchan.
Food prepared by wife and mother, poem by grandfather.
Take that you critics who say he is nothing without his family.
Okay, that was harsh. Apologies.
Before saying anything, I must admit that I am a big fan of the Bachchans and this might heavily bias my posts.
As we know, Priyanka Chopra has been awarded the Best Actress trophy for Fashion in every single award function, including IIFA. This has not gone down well with Mrs. Jaya Bachchan, who stated :
I don't have any objection to her [Priyanka] winning the award at IIFA. But I wonder why Aishwarya's fine performance was ignored. I think she richly deserved recognition for her work.
Of course, Mrs. Bachchan acted out these lines and given her recent acting escapades, it is mere speculation that she said the exact same words. Now critics are going to point out that Mrs. Bachchan hasn't even seen Fashion to make a comment, but therein lies the greatness of the Bachchan parivar (family), which is one of the last 3 remaining parivars in India, after the Gandhi parivar and Sahara parivar.
So understandably, this ignorance by IIFA has made me livid with anger. At the very least, IIFA should have recognized at least two Bachchans for awards. How else can the family show their closeness and bonding on stage ?
Now rumour has it that they felt Aishwarya was plastic in the movie. Wrong. If anything, she was wax, and wax, as we all know, is a greener and more organic alternative to plastic. With the increasing importance of environmental conservation, I am apalled at this decision of IIFA.
In fact, let me go a step further. I demand a Best Actor trophy for Abhishek Bachchan in Jodha Akbar. I know the skeptics are always going to say that he wasn't even there in the movie. But to think of it, he wasn't in it means he did not act in it, which is a far superior performance than bad acting ! So there you go.
I just hope IIFA rectifies its mistake next year, by giving a family pack of awards to all Bachchans henceforth, including the yet to be born baby.
To quote Varun Gandhi, "If any person lifts a hand against the Bachchans, or thinks they are weak, there is nobody behind them, then I swear on the Amar Singh that I will cut off their nails".
I admit that I am no big fan of the Bachchan's and Aishwarya's entry into the Bachchan parivar hasn't helped matters. But I am sure this post has nothing to do with my bias.
Have a look at this photo and guess how many wax statues are there.
I kid you not, that is the real Aishwarya Rai in the snap !!!
Honestly, my first impression was that it was her wax statue. Now I understand all the wax and plastic jokes.
Photo Courtesy : Times of India.
What do you do when you read about such a Guiness record :
A world record in the length of a queue to a toilet was set Sunday when 756 people lined up to a latrine in central Brussels to raise awareness for the need for clean water on World Water Day. "The latrine was of the same design as we use in third world countries — a dry latrine — and we formed the longest queue this morning," UNICEF spokesman Benoit Melebeck said.

"The Guinness Book of Records told us we needed to get at least 500 people in the queue to get the record," he said.
While I must admit it makes Abhishek Bachchan's record attempt seem sacrosanct, the veracity of their claim looks non-judgeable. How could one confirm that each one of the 756 people actually used it ? Or were they in the line just for the record ? Or did they even know what the line was for considering the noise level in information transfer between humans ? It is almost sure that the 756th person did not attend the exact same call of nature for which he queued up unless he has infinite control or a burst bladder; then should only those people be accounted for who attended the same call of nature they intended to ?
I can just go on and on so I better stop. I could annoint them "Dudes of this week" but that would just be glorifying their non-achievement. 
Vetti buggers, as a friend would say. [Vetti - Tamil for vella/jobless].
Close on the heels of my earlier post "Cash for Holi", Samajwadi Party MP Jaya Prada (who by the way, has nothing to do with Italy and fashion) was caught giving away cash to voters.
And of course, the great tradition continues.
No, not that of politicians giving away money. Of IBNLive taking the pains to highlight the cash for our ease.
On that note, say if Aishwarya gets pregnant and Abhishek is happily sharing the news with reporters. The reporters are desperate to highlight something in the snap .. something .. absolutely anything related to the news. Any guesses what they'll do ?