You are currently browsing the tag archive for the 'Barack Obama' tag.
After news reports that the Sri Lankan army was within 8 sq. km., 4 sq. km., 3.8 sq. km. and 800 metres of Prabhakaran, an elated Sri Lankan President Mahinda Rajapaksa today announced that the army was just 1 sq. metre away from Prabhakaran. When reporters pointed out that it did not make sense and wondered why he still wasn't captured, he replied, "We are very concerned about civilians and want to clear the area before capturing him".
He ended the press conference with "We are very close to winning the war", and is now just 3 statements away from the world record for this line. The record is currently held by George W. Bush; who is still confused why it doesn't play on his gramophone.
In India, this news has enraged a helpless DMK which has threatened to pull out of the government, strange since they are no longer a part of the government. When this was brought to his notice, Karunanidhi snapped back with, "Then I'll pull out support from my government in Tamil Nadu". In a show of immediate solidarity, he also joined the LTTE Fan Club on Facebook and poked Manmohan Singh for not interfering in the war.
J. Jayalalitha was unavailable for comment; she had food in her mouth.
Noted columnist Cho Ramaswamy stated again, "There is no sympathy for the LTTE in Tamil Nadu". In fact, if for every time he said this he lost a hair, that would explain why he is bald.
Pakistan President Asif Ali Zardari, who was contacted for no apparent reason as it does not concern him, reacted quickly at this latest development and immediately called Obama to convey that Prabhakaran was in fact in Swat Valley and that he would need some more pocket money, drones and a date with Sarah Palin pronto.
Meanwhile, in an unrelated news, fans of Lost, who have pretty much lost it with all the time-travels and paradoxes, are quite convinced that Prabhakaran is Jacob after all. They are hoping Prabhakaran will be caught in the season finale coming up in two weeks.
Disclaimer : None of this stuff has happened, atleast until now.
If you still do not believe that Obama is god incarnate, hopefully this will change your mind.
He was seen teaching Brian Lara how to bat.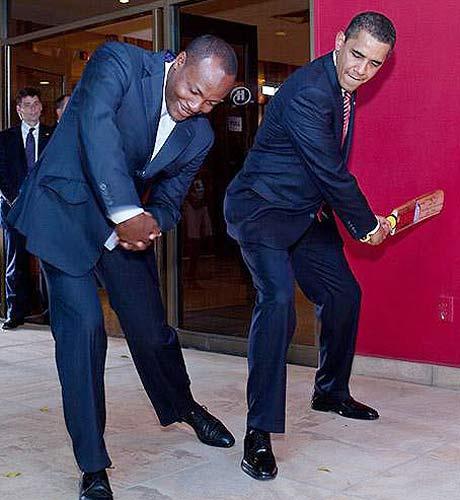 This reminds me of a skit on The Daily Show by Aasif Mandvi :
Aasif : [ .. with reference to Barack Obama being a Christian or a Muslim or closet Jew .. ] he won't be making a decision until next month's G3 summit.

Jon : The G3 ?

Aasif : He is planning to get together the leaders of the three main monotheistic religions, Yahweh (Judaism), Jesus and Allah.

Jon : *They* are coming to *him* ?

Aasif : Of course. It's Obama. It's a chance of a lifetime for these guys.
Image Courtesy : Rediff.com
Hat-tip : Overrated Outcast.
.. and not just bombs, he almost suicide-bombs.
When I was back home, Bobby Jindal was one American politician the media reported eagerly about, considering he was of Indian origin. I had heard a few flattering things about him and was eager to see him perform on the national scene. That happened yesterday when he delivered the Republican response to President Obama's address to a joint session of the Congress. Unfortunately, he cleared all doubts.
Firstly, was it just me or did everyone burst out laughing at his tone ? Unless he was trying to convince a class of kindergarteners, there is some serious problem with it (watch the video here).
Then came the WT# moment (full transcript here):
As I grew up, my mom and dad taught me the values that attracted them to this country, and they instilled in me an immigrant's wonder at the greatness of America. As a child, I remember going to the grocery store with my dad. Growing up in India, he had seen extreme poverty. And as we walked through the aisles, looking at the endless variety on the shelves, he would tell me: "Bobby, Americans can do anything." I still believe that to this day: Americans can do anything.
I am sure America's claim to fame are those 10 varieties of Lays' chips. 
Plus there were the classic Republican gaffes, this time in reference to 'volcano monitoring' and one completely orthogonal Hurricane Katrina reference, if not self-destructive.
Ok I admit I might be biased, but you know you have touched your nadir as a Republican when Fox News pans you !
Tch tch.
This  dude of the week is literal.
We all know that Obama religiously works out everyday. It was but natural that Mr. L.K. Advani would follow suit.
Senior BJP leader LK Advani on Friday showed that he is fit to lead the country by trying his hand at dumbbells and weights at the new gymnasium developed by the civic body in Vadaj area in Ahmedabad.
Details follow :
He picked up two one-kg dumbbells and lifted them above his shoulders, both his hands up in the air. Advani also flexed his muscles with some shoulder crunches at the gymnasium. He then jogged to Pakistan, uprooted a hand pump and bashed up all Pakistani actors who were not in government jobs.
Well not the last line, but the rest is true. I have video proof.
I never expected Mr. Advani to be all about brawn. Maybe because I always thought he resembled Chacha Chaudhari (or is it just me ?). Now wouldn't it be cool to have an election poster that says "Shri L.K. Advani's brain works faster than a non-Hindu".
(For people who do not yet see the obvious plagiarism of campaigning, have a look at a previous article here. Another recent speech of his read "India's problems need Indian solutions" which bears an uncanny resemblance to an Obama speech)
This is an emotional moment for any person who appreciated good humour. We all know we might not get it in the same proportions from the new president. So while the whole world is celebrating the inauguration of President Obama, I would prefer to reminisce about those good ol' times with some Bushisms : 
"Too many good docs are getting out of the business. Too many OB-GYNs aren't able to practice their love with women all across this country." —Poplar Bluff, Mo., Sept. 6, 2004
"There's an old saying in Tennessee — I know it's in Texas, probably in Tennessee — that says, fool me once, shame on — shame on you. Fool me — you can't get fooled again." —Nashville, Tenn., Sept. 17, 2002
""Rarely is the questioned asked: Is our children learning?" –Florence, S.C., Jan. 11, 2000
and my favourite :
"Our enemies are innovative and resourceful, and so are we. They never stop thinking about new ways to harm our country and our people, and neither do we." —Washington, D.C., Aug. 5, 2004
Forget about India's Obama, we are still waiting for our George Bush which is a shame given our politics. The only serious contenders I can think of are the Left parties, which is quite ironical in itself. Has anyone told them this yet ?
The quote of the day comes from Joe, the plumber :
I'll be honest with you: I don't think journalists should be anywhere allowed war. (sic) I mean, you guys report where our troops are at. You report what's happening day to day. You make a big deal out of it. I think it's asinine. You know, I liked back in World War I and World War II when you'd go to the theater and you'd see your troops on, you know, the screen and everyone would be real excited and happy for 'em.
Incidentally, he is himself in Israel as a war correspondent for Pajamas TV. Seriously. And he wasn't even around during the World Wars !
I am not sure if I feel sorry for this guy or irritated by him. The only intelligent thing he ever did was ask Barack Obama an honest query. Since then, he has only pretended to be sensible. And the Republicans/conservatives who have gotten him into this mess aren't helping either.
I have wondered in quite a few posts when India will get her Obama. But our prayers are finally being answered (although there seems to be some misunderstanding between the almight and us.)
The first candidate is Shri. L.K. Advani (I went through his entire website and I am pretty sure Shri is his first name). Firstly, his personal portal lkadvani.in that was inaugurated a week after Obama's win (and if McCain would have won, he already had speeches with मावेरिक ready). Just search for the number of times 'change' appears in his recent speech (Link). Plus a lot looks familiar with an exception that the 'Donations' option is missing. Public funding is something that cannot be done so blatantly according to the Election Commission. In their laws, they clearly mention that "Funding for campaigns is strictly to be obtained by unfair means when in power whatsoever".
Another candidate is Pramod Mahajan's daughter, Poonam Mahajan contesting from Mumbai. Her campaign slogan is "You deserve better. You deserve a change."
With the state elections approaching, and the general elections next year, I am sure many more politicians are going to jump in with their local variants of 'change' and 'बदलाव'.
But somehow I have this feeling that Mr. L.K. Advani is the Barack Obama of India. And no, it is not just instinct. Lalu Prasad Yadav (the only Indian politician who bears some similarity to Sarah Palin) just called Advani a 'terrorist'.
On a more serious note, L.K. Advani's portal is actually good with transcripts and videos of all his speeches, his campaign trail, his stand on issues, etc. We deserve to know everything about our Prime Ministerial candidates.
Meanwhile, the Congress is working hard to get their portal http://www.manmohansingh.in running. Apparently they are having some issues with the proxy server. Citation needed.
Heard of Sonal Shah ?
She is currently India's only superwoman who leads a double life; Barack Obama's economic adviser by day, and a VHP fundamentalist leader in India by night, which of course is day again in India. Wiki says :
The confusion arose because of Shah's involvement in a humanitarian relief effort to raise funds for the victims of the 2001 Gujarat earthquake.
Shah was a lead speaker of Ekal Vidyalaya. Recent reports describe alleged links between Shah's parents, the Vishva Hindu Parishad, the Gujarat Chief Minister Narendra Modi and Shah's link with Vishva Hindu Parishad of America.
Yeah, and her dog mated with the pet of a VHP leader too. 
Although the claim didn't even deserve a reaction, as expected she rubbished the rubbish claims. Oh, and one of the organizations that started the protests,
Non Resident Indians for a Secular and Harmonious India.
?!?!?!
I seriously wonder how everyone who reviewed Fashion missed out the most ridicuous fact, that it is racist !
The lead character is happily drinking, merrily smoking tobacco and dope, gaily sleeping with the only non-gay men provided in the script. But why does her world have to come crashing down when she wakes up next to a black guy !! How racist is that ! (or is it his way of saying that India's moment in the world has arrived. With the US being led by a black guy and clearly brown > black, we are the supreme masters of the world.)
With heavyweights like Madhur Bhandarkar, Priyanka Chopra (yeah she is fat and if you don't believe me, I still wouldn't recommend the movie) Kangana Ranaut (Please do something about her accent ! It ruins all her acting !), you would expect a decent movie.
It would have been damn good if it wasn't boring, cliched, full of forced emotional sequences (exactly the kind that would amount to blasphemy in a Karan Johar movie), inexplicable behaviour by the characters and a few other flaws.
P.S. : Even with all its acerbity, the last sentence was not plagiarized from a Khalid Mohammad review.
The latest crisis that has hit India is surprisingly, not even remotely economic. It is a question that has been troubling everyone including our Prime Minister Manmohan Singh.
Until now this was a question that only troubled recently dumped girlfriends (thankfully we had eminent personalities like Dr. Mahendra Watsa to help them out). But in this case, we can do little apart from speculate.
I think Mr. Manmohan Singh was being too possessive. Getting impatient, calling Obama to India at the earliest; this kind of suspicious attitude ruins any healthy relationship.
But not everyone sees it this way. One official is relieved we are not in the list of troublesome nations that Obama first called. A Democrat wondered if Manmohan Singh called Obama in the first place. And of course, Pakistan was the happiest that India's recent statement about India and US being "natural allies" fell flat. (Link via : Greatbong)
And unknown to everyone, somewhere in a telephone exchange near the Prime Minister's office, a BSNL employee typed ROTFLMAO on his ancient Pentium computer.